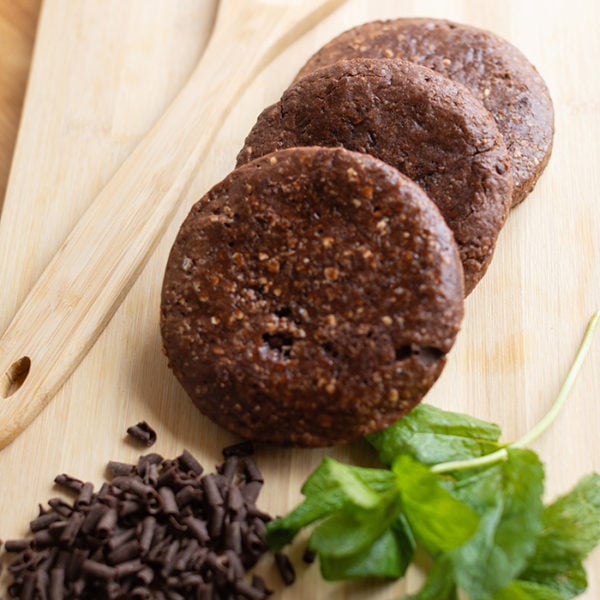 Nutrition Facts
Valeur nutritive
Per 1 cookie (100g) / par 1 biscuit (100g)
Amount
Teneur
% Daily Value
% valeur quotidienne
Calories/Calories 330
Fat/Lipides 11 g
15%
Saturated/saturés 3.5 g
+ Trans/trans 0 g
18%
Polyunsaturated/polyinsaturés 2 g
Omega-6/oméga-6 2 g
Omega-3/oméga-3 0.3 g
Monounsaturated/monoinsaturés 5 g
Cholesterol/Cholestérol 150 mg
Sodium/Sodium 325 mg
14%
Potassium/Potassium 350 mg
7%
Carbohydrates/Glucides 33 g
Fiber/Fibres 8 g
29%
Sugars/Sucres 6 g
6%
Protein/Protéines 21 g
Calcium/Calcium
8%
Iron/Fer 3mg
17%
* 5% of less is a little, 15% or more is a lot
* 5% ou moins c'est peu, 15% ou plus c'est beaucoup
Ingredients: Whole Grain Oats, Whey Protein, Unpasteurized Honey, Natural Peanut Butter, Butter, Eggs, Cocoa, Flax Meal, Sea salt, Baking Soda, Mint Extract.
Allergy Warning: Mama T's Chocolate Mint Protein Cookies contain dairy (whey protein), eggs, and gluten. Our oats are not gluten free and our cookies are prepared in a facility that may also handle other nuts and shellfish. Please contact us if you require more allergen information.
Chocolate Mint Protein Cookies
$47.99/ Bag of 12
Freshen up your snack-game with the newest flavour from Mama T! The Chocolate Mint Protein Cookie contains the perfect ratio of dark chocolate and mint that is sure to revive your taste buds. Packed with 21 grams of protein, it is a refreshing and filling snack that you can grab and go.