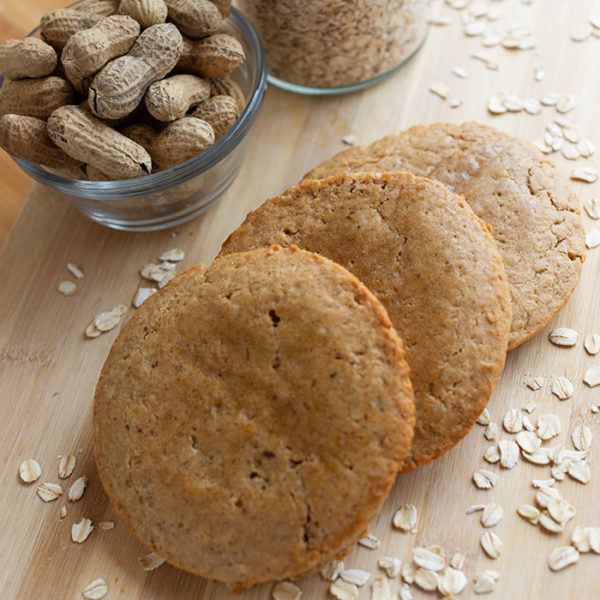 Nutrition Facts
Valeur nutritive
Per 1 cookie (100g) / par 1 biscuit (100g)
Amount
Teneur
% Daily Value
% valeur quotidienne
Calories/Calories 330
Fat/Lipides 14 g
19%
Saturated/saturés 3 g
+ Trans/trans 0 g
15%
Carbohydrates/Glucides 28 g
Fiber/Fibres 6 g
21%
Sugars/Sucres 3 g
3%
Protein/Protéines 24 g
Cholesterol/Cholestérol 20 mg
Sodium 250 mg
11%
Potassium 400 mg
9%
Calcium 100mg
8%
Iron/Fer 1.5mg
8%
*5% or less is a little, 15% or more is a lot / *5% ou moins c'est peu, 15% ou plus c'est beaucoup
Ingredients: Whole Grain Oats, Whey Powder, Unpasteurized Honey, Natural Crunchy Peanut Butter, Eggs, Flax Meal, Sea Salt.
Allergy Warning: Mama T's Ultimate Peanut Butter Protein Cookies contain dairy (whey protein), eggs, tree nuts and walnuts, sesame seeds, sulfates and gluten. Our oats are not gluten free and our cookies are prepared in a facility that may also handle other nuts and shellfish. Please contact us if you require more allergen information.
Ultimate Peanut Butter Protein Cookies
$47.99/ Bag of 12
Are you ready to take your love for peanut butter to the next level? We thought you might be. Mama T's Ultimate Peanut Butter Protein Cookies contain 24 grams of protein per cookie. Now you get to enjoy soft, delicious peanut butter cookies just like your Mama used to make without the guilt.