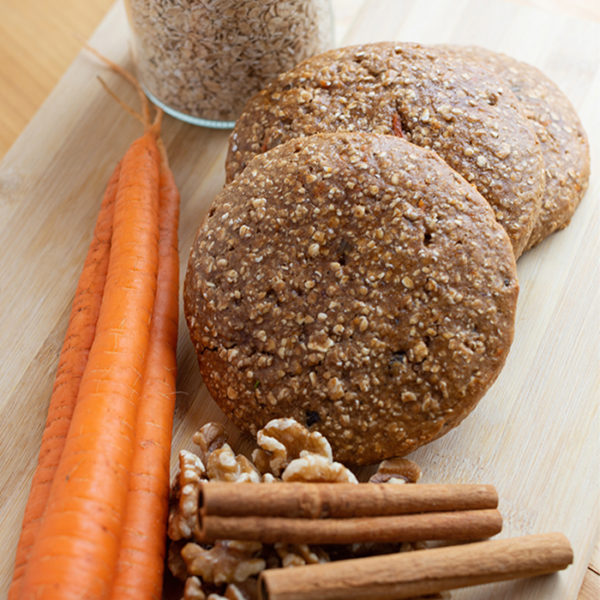 Nutrition Facts
Valeur nutritive
Per 1 cookie (100g) / par 1 biscuit (100g)
Amount
Teneur
% Daily Value
% valeur quotidienne
Calories/Calories 280
Fat/Lipides 10 g
15%
Saturated/saturés 2.5 g
+ Trans/trans 0 g
13%
Polyunsaturated/polyinsaturés 3.5 g
Omega-6/oméga-6 3.0 g
Omega-3/oméga-3 0.4 g
Monounsaturated/monoinsaturés 4 g
Cholesterol/Cholestérol 50 mg
Sodium/Sodium 360 mg
15%
Potassium/Potassium 380 mg
10%
Carbohydrates/Glucides 26 g
9%
Fiber/Fibres 6 g
24%
Sugars/Sucres 5 g
Protein/Protéines 21 g
Vitamin A/Vitamine A
20%
Vitamin C/Vitamine C
0%
Calcium/Calcium
10%
Iron/Fer
15%
Ingredients: Whole Grain Oats, Whey Powder, Unpasteurized Honey, Natural Peanut Butter, Eggs, Flax Meal, Carrots, Walnuts, Vanilla Extract, Sea Salt, Spices.
Allergy Warning: Mama T's Walnut Carrot Cake Protein Cookies contain dairy (whey protein) and eggs and walnuts. Our oats are not gluten free and our cookies are prepared in a facility that may also handle other nuts and shellfish. Please contact us if you require more allergen information.
Walnut Carrot Cake Protein Cookies
$47.99/ Bag of 12
You don't have to compromise taste to eat healthy. Combining all-natural ingredients with the traditional taste of Carrot Cake, this delicious snack is light in texture and packed with 21 grams of protein. Walnut Carrot Cake Protein Cookies are our healthy twist on a favorite dessert, and it definitely takes the cake.